Low voltage Drives
FRENIC-HVAC (FRN-AR1)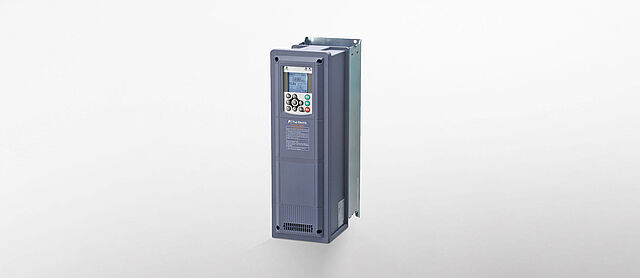 High performance – extra slim
The FRENIC-HVAC is an extra-slim inverter from Fuji Electric for various HVAC applications. This new series follows the European trend and offers the proven reliability of Japanese production. Specific functions for fan and compressor applications and new energy-saving functions are installed as standard. This makes the FRENIC-HVAC a first-class choice among high-performance inverters for the HVAC and compressor market.


Wide capacity range from 0.75 kW to 710 kW
IP 21 & IP 55 with the same dimensions
Up to 90 kW with integrated DC link reactor and EMC filter. Integrated EMC filter for all capacities
Overload capability 110 %
Torque vector control
Modbus RTU, BACnet MS/TP and Metasys N2 integrated as standard
Large LCD display, 19 languages and user-defined language
Specific macros for common blower and compressor applications
User-defined logic (mini PLC), 14 steps, digital and analog signals possible
Real Time Clock (RTC)
4 PID sets
Unit conversion function (kPa, bar, l/min, etc.)
Emergency operation (forced running)
Interception of a freely rotating motor
Password function
New energy-saving functions (sleep mode)
Multipump control (up to 9 pumps with one inverter)
Extension cable for remote control (CB-[type] S)
Pipe fill mode
Anti-jam function
Battery (OPK-BP)
Fieldbus options:


CC-Link communications card (OPC-CCL)

DeviceNet communications card (OPC-DEV)

ProfiBus OP communications card (OPC-PDP2)

CANopen communications card (OPC-COP)

LonWorks communications card (OPC-LNW)

Ethernet communications card (OPC-PRT3)

Ethernet communications card (OPC-PRT2)
Other options:


Relay output interface card (2 outputs) (OPC-RY)

Relay output interface card (7 outputs) (OPC-RY2)

Analog inpit interface card (OPC-AIO)

Analog current output interface card (OPC-AO)

Pt100 temperature sensor input card (OPC-PT)
Get in contact
---

Our experts will answer any further questions you have about Fuji Electric and our technologies.