Low voltage Drives
FRENIC-Ace (FRN-E2)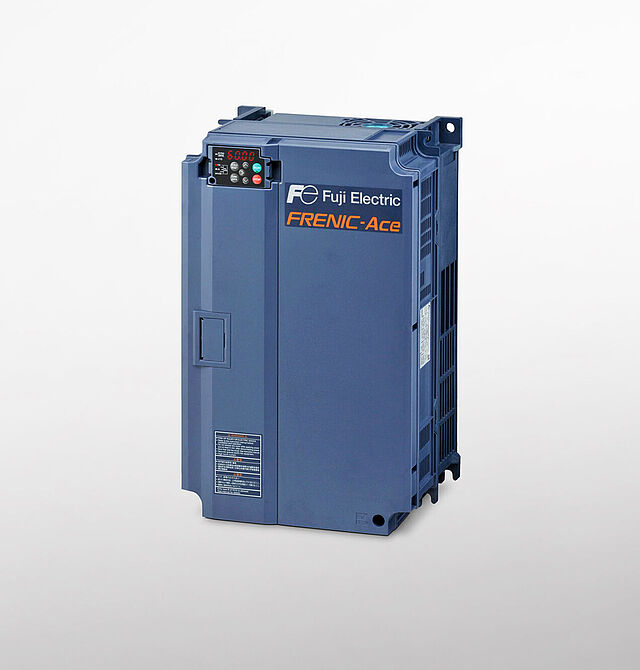 The next generation standard inverter
The FRENIC-Ace is an inverter with excellent cost performance, whose high performance is achieved via an optimized design. It is very versatile and can be used with various machines and devices. The FRENIC-Ace is the next generation standard VFD. It can be used in almost all applications - from fans and pumps to special machines.


User-defined logic, outstanding flexibility
Quadruple rating
CANopen communication integrated as standard
Capacity range up to 220 kW in HHD
Wide range of functions as standard features
Functional reliability: STO function as standard
10 years design lifetime
Multifunctionial keypad
Simple keypad with USB port
Fieldbus options


CC-Link communications card (OPC-CCL)

DeviceNet communications card (OPC-DEV)

ProfiBus-DP communications card (OPC-PDP3)

CANopen communications card (OPC-COP)

ProfiNet-RT communication card (OPC-PRT)

RS 485 (OPC-E2-RS)
Other Options


Digital input/output interface card (OPC-DIO)

Analog output interface card (OPC-AIO)

PG interface card (5 V) (OPC-E2-PG)

PG interface card (12/15 V) (OPC-E2-PG3)

Remote Multi-function Touch panel with back light (TP-A1-E2C)

Remote Touch panel with USB (TP-E1U)

Adapter option (0.1 kW to 15 kW) (OPC-E2-ADP1)

Adapter option (18.5 kW to 22 kW) (OPC-E2-ADP2)

Adapter option (30 kW and above) (OPC-E2-ADP3)
Get in contact
---

Our experts will answer any further questions you have about Fuji Electric and our technologies.