HMI V9 Series
A revolution in graphical interfaces
Fuji Electric's MONITOUCH Human Machine Interface (HMI) operator panels offer unique functionality, including connectivity to widely used PLC systems, drives and controllers.

The V9 series represents a revolution in graphical user interfaces. A new concept, a new philosophy, thanks to which every system integrator can use the latest remote VPN access technologies offered by global networking, without specialist knowledge.
The V9 series is the perfect industry partner in the IIoT age. Thanks to its wide range of functions, the series helps to establish the most efficient information system that meets automation and connectivity requirements.
Each V9 unit is equipped with a built-in VPN router that makes remote access to the unit easy and secure, and to any device connected to the HMI.
Benefits
Secure and inexpensive remote access
With an Internet connection, you can set up a VPN environment only with the V9 series, without using a VPN router.
SSL-VPN enables bug-proof and tamper-proof communication.
Easy remote access to peripherals
Integrated routing function allows easy remote access to PLC and various devices connected to the V9 series by Ethernet.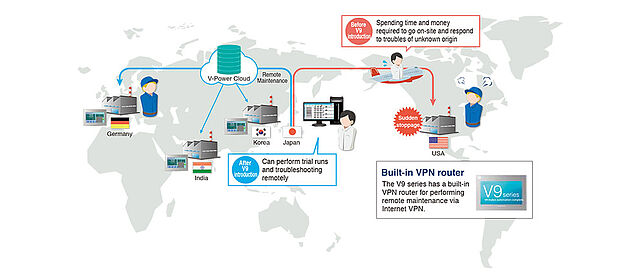 Web Machine Interface (WMI)
VPN Remote Access / Cloud Data Utilization Solution
The Web Machine Interface makes remote monitoring secure, easy and inexpensive.
It offers two services: The "VPN Remote Access Service" enables secure remote monitoring by VPN, and the "Cloud Data Utilization Service" can receive various types of data via a cloud server. Remote maintenance makes it possible to detect signs of anomalies in advance and ensure proper maintenance of the machine. It also helps to reduce the number of sudden stoppages and to carry out preventive maintenance.
Remote desktop
Control the PC screen with the V9 series
By connecting to Ethernet, you can display the PC screen directly on the V9 screens. You can view work instructions and manuals located on PCs even at manufacturing sites that do not allow to carry in PCs, so it makes maintenance more efficient.
Network printer compatible *
Share printers with multiple V9 series
Printing jobs from multiple V9 series can be shared via a single network printer. The network printer connection supports both wired and wireless LAN, and that helps to save space and cables. * Compatible only with EPSON ESC/P-R. Wireless LAN connection is possible for wireless LAN compatible products.
VNC server
Remote connection from tablet PCs
Each V9 unit has remote monitoring/maintenance capabilities via Ethernet, thanks to its VNC feature.
Direct communication with your tablet PC
Wireless LAN models have an integrated access point to connect with wireless LAN devices without setting up extra access points.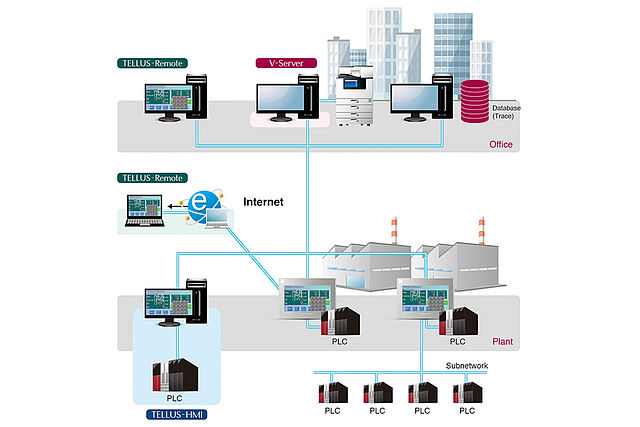 TELLUS and V-Server
Remote monitoring and operation solutions
The TELLUS software connects remotely located V9 series to office computers in order to provide on-site information and to monitor and control related equipment.
You can allocate jobs based on the operation conditions of the line, respond quickly to trouble, and achieve more efficient and cost-effective production.

Real-time collection of on-site information.
• Data can be collected in real time by capturing site status and production information.
• It can be linked with databases such as SQL Server or save data in CSV or Excel format.
• It supports operations with appropriate work directions based on event monitoring.

Easy, inexpensive monitoring and operation from remote locations.
You can use the same screen data as the on-site V9 series. There is no need to create a new remote monitoring screen.
Multiple startups allow you to monitor and operate more than one V9 series via a single PC.

Use the V9 series features directly on your PC
Display and operation is done on/from your PC instead of/from the V9 series.
It enables you to easily connect to peripherals such as printers. There is no need to worry about selecting peripheral devices.
FEATURES - Usability & Graphics
Video/RGB input/output
By attaching an optional unit, videos and RGB images can be displayed on the V9. Also, images displayed on the V9 can be sent to external displays.
For displaying pictures, 3D parts, video, and RGB input (excluding high-speed mode) only. Other parts are displayed in 65,536 colors.
Extended datasheets
It also supports PDF output in addition to standard printer output. By converting various forms such as daily reports to PDF, a printer is no longer needed. It helps to save paper and space. These PDF files can be transferred to office PCs using FTP server/client functions, which allows you to check data without having to go to the production site.
Smooth operation
Zooming in and out with two fingers
The displayed image can be magnified up to 200 % by zooming out*. It can be reduced to its original size by zooming in.
* When using V9 Standard/Lite, images can be scaled up and down by double tapping.
Scrolling magnified images
You can view a particular part of a magnified image in close-up while scrolling around the screen.
Displaying images four times the screen size
Images can be laid out four times the screen size in height or width according to your needs.
The whole area of a large image can be confirmed easily by scrolling the screen without the need of switching it. The navigation window helps you to recognize the current displayed position instantly.
Compatible with event record functions
Instantaneous video recording and playback
With an ordinary USB camera, you can record a video before and after alarms occur, e. g. during momentary interruptions, and store it on an SD card to support root cause investigation and improve the operational efficiency of the installation.
Equipped with video player
Playing back stored video data
By playing videos used to troubleshoot anomalies, operators can easily learn how to respond quickly to the problems.
In addition to viewer-initiated playback via the system menu, video can also be played back via switch and PLC control commands. It supports MP4 (MPEG-4) video files to ensure high compression and high quality.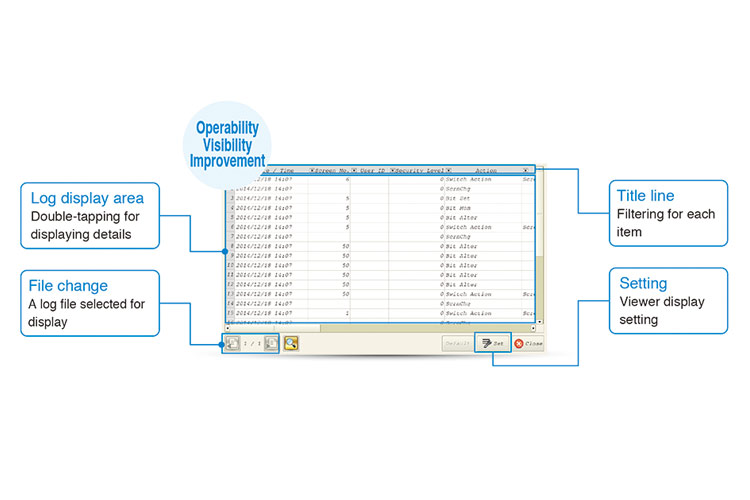 Operation log
Improved operation log viewer
Our improved log viewer is a log management software that monitors the log files generated by servers, applications and the network. It detects patterns and educates users about them. In this way, it helps to identify and resolve performance and security problems.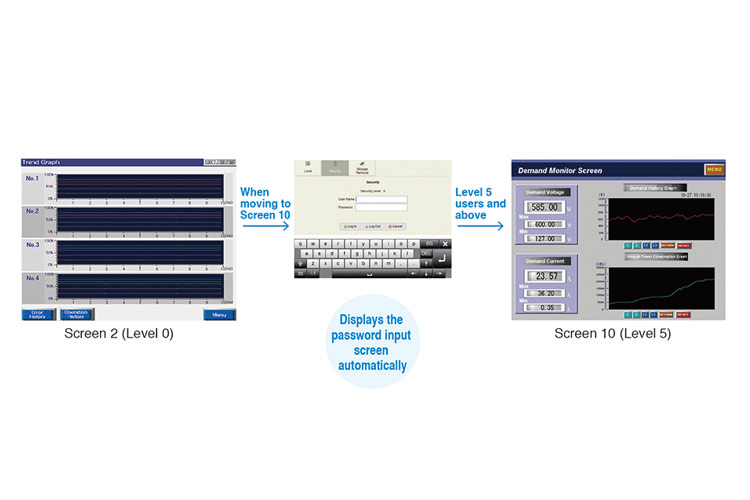 Security Features
A security level between 0 and 15 can be set for each screen. You can create a high-level security environment by restricting functions based on the security level.
Switch interlock: A security level can also be set for a switch. Only users who log in with the appropriate authorization level can operate the switch.
Get in contact
---

Our experts will answer any further questions you have about Fuji Electric and our technologies.