HMI TECHNOSHOT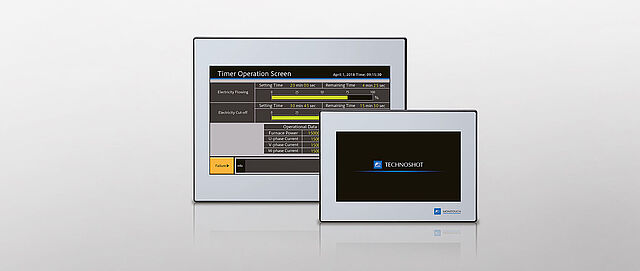 Excellent display capabilities at low cost
The TECHNOSHOT SMART series is easy to program and has bright TFT liquid crystal wide screen color displays. The high-resolution display and fast response characteristics give the TECHNOSHOT SMART panels excellent display capabilities at a competitive price. These panels combine the highest functionality with manageability and visibility. They speed up processes in all industries and are available in 2 different sizes (7 inches or 10 inches) to meet all system requirements.

Multilingual
You can choose between 16 screen languages without having to manage the language files.
Compatible fonts: English, Western European, Central European, Cyrillic, Greek, Turkish, Baltic, Japanese, Chinese (traditional and simplified) and Korean

VNC server
You can easily setup the VNC viewer tool on a computer to monitor and operate TS1000 Smart screens on the factory floor from the same computer via an Ethernet connection. In addition, monitoring and operations can be easily performed from a tablet device via a wireless router.

Trend sampling
Various operating data that can change continuously, are recorded and displayed in chronological order in a trend diagram. Zoom in on a specific area of the screen to review changing waveforms of trend graphs in more detail.
TS1070S-WP / TS1100S-WP (IP65 gasket):
Gasket for TECHNOSHOT (if IP65 is required)
V-SFT (Screen Configuration Software):
Supports Windows 10 / 98 SE / Me / NT Version 4.0 / 2000 / XP / XP 64 edition / Vista 32 bit / Vista 64 bit /
Win7 32 bit / Win7 64 bit / Win8 32 bit / Win8 64 bit / Win10 32 bit / Win10 64 bit
Get in contact
---

Our experts will answer any further questions you have about Fuji Electric and our technologies.