Low voltage drives
FRENIC-MEGA (FRN-G1)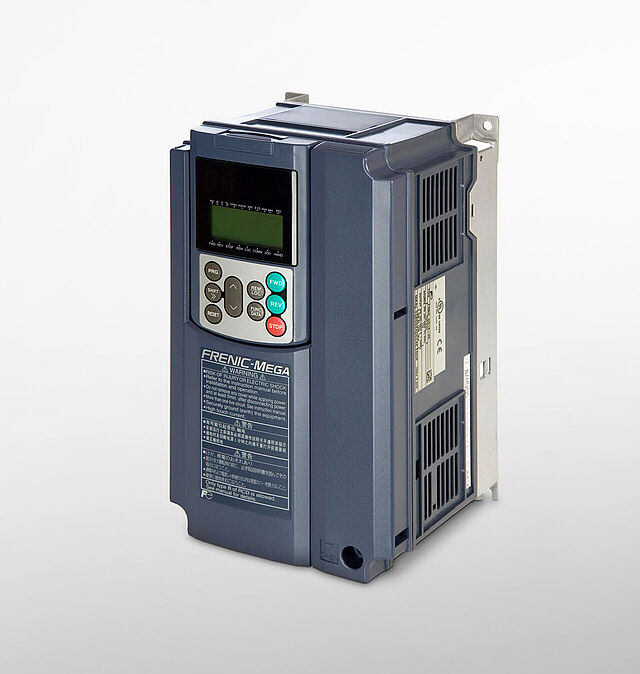 MEGA – Maximum Engineering for Global Advantage
The FRENIC-MEGA G1 – successor to the former G11S series – is a high-performance multifunctional inverter developed by Fuji Electric to bring together the best of each technology. With its flexibility and versatility for use in all types of mechanical equipment, the FRENIC-MEGA is a leader in terms of performance, responsiveness, environmental and maintenance friendliness.


Safety enable input (compliant with EN/ISO 13849-1 PL=d, cat. 3)
Integrated EMC filter for all capacities (compliant with EN 61800-3, cat. C3)
Sensorless vector control mode (100 % torque at 0 Hz)
Advanced PID functions (dancer tension control
Brake control function
Gates for logic operation of input and output functions and delay timer (10 steps)
Positioning function (when the encoder option is used)
3 slots for 3 different options at the same time (encoder, fieldbus, I/O expansion)
Removable control terminals (cage clamp type)
External EMC filter (footprint up to 22 kW) for higher EMC compliance (EN 61800-3, cat. C2)
LED keypad with basic functions, integrated USB port and copy function (1 complete function set, operation, maintenance and alarm information)
Advanced LCD/LED keypad with clear text description and copy function (3 complete function sets)
Fieldbus options:
CC-Link communications card (OPC-CCL)

DeviceNet communications card (OPC-DEV)

ProfiBus OP communications card (OPC-PDP2)

CANopen communications card (OPC-COP)

LanWorks communications card (OPC-LNW)

Ethernet communications card (OPC-ETH)
Other Options:


Additional analog input/output card (OPC-AIO)

Additional digital input card (OPC-G1-DI)

Additional digital output card (OPC-G1-DO)

Relay output interface card (2 outputs) (OPC-RY)

Analog output (x 2ch) (OPC-G1-AO)

PG (encoder) interface 12~15V HTL (OPC-G1-PG)

PG (encoder) interface 5V TTL line driver (OPC-G1-PG2)
Get in contact
---

Our experts will answer any further questions you have about Fuji Electric and our technologies.